'Saimaluu-Tash' Time Capsule: Largest Millennia-Old Collection Of Petroglyphs In Central Asia
|
A. Sutherland - AncientPages.com - Located in Central Asia, Kyrgyzstan (officially Kyrgyz), is bordered by Kazakhstan to the north, Uzbekistan to the west, Tajikistan to the south west and China to the east.
Kyrgyzstan's history spans over 2,000 years, encompassing several great ancient civilizations; the country was part of the Silk Road and other commercial and cultural routes.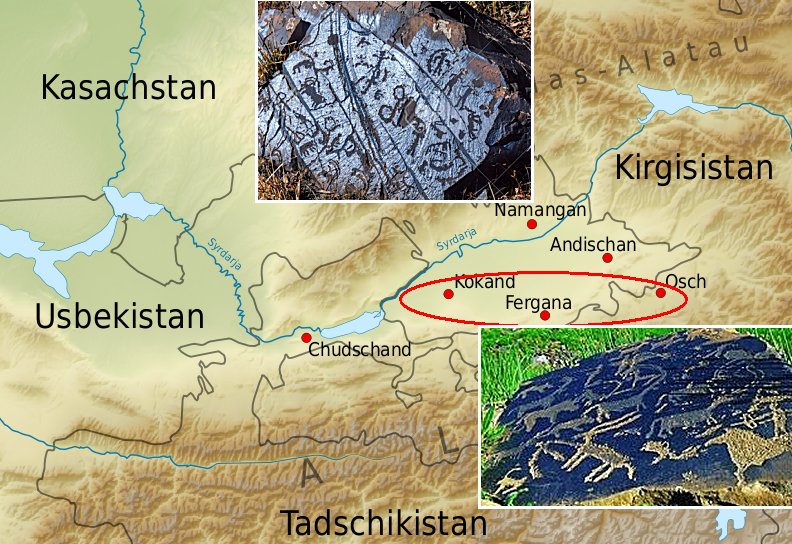 The country's highly mountainous terrain successfully has helped to preserve its ancient culture.
Among many relics from ancient times, there is a large collection of about 11,000 petroglyphs, scattered over the plateau's surface at an altitude of 3,000 - 3,200m in the Fergansky mountainous range.
The age of the rock art varies in age from 4000 years ago to petroglyphs from the Middle Ages.
In two areas: Saimaluu-Tash One, that measured 3km in length and another, Saimaluu-Tash Two, there are both single petroglyphs and multi-image compositions that date from the early 2000 BC to 3000 BC of the Neolithic and Bronze Ages, and up into the Middle Ages (8th century AD).
The largest gallery of petroglyphs in Central Asia consists of about 90 thousand individual specimens and is concentrated in the area of "Saimaluu-Tash", which means in Kyrgys language, "place of patterned or embroidered stone". Petroglyphs represent different eras and each era is done in a different style.
The site has unquestionably long been considered to be sacred and frequently visited by local shamans.
See also:
Ancient Petroglyphs Of Cholpon-Ata And Mysterious Balbals Figures That Guard Grave Sites, Kyrgyzstan
However, Saimaluu Tash is extremely remote and difficult to reach. It's located between 2,800 – 3,400 meters above sea level and can only be visited from mid-July to mid-August (or just in August depending on the weather). Due to its high elevation, snow covers the roads leading up to the site the rest of the year, making it impossible to reach.
Even during that month-long sweet spot, it takes about a day on foot or horseback to reach Saimaluu Tash.
Scholars have identified a number of different styles; all of them were used to depict animals (often in linked rectangles and triangles) such as snow-leopards, wolves, ibex, red deer, elephants, lions, birds and reptiles, accompanied by domesticated yaks, bulls and horses.
On Saimaluu-Tash's large basalt blocks with smooth curved surfaces, there are etched simple lines, symbols, lonely figures, sun and moon shaped figures, dances of demons and multi-image compositions of scenes of hunting, domestication of wild animals, migrating along mountain paths, ritual dances of masked people and much more.
Written by – A. Sutherland  - AncientPages.com Senior Staff Writer
Copyright © AncientPages.com All rights reserved. This material may not be published, broadcast, rewritten or redistributed in whole or part without the express written permission of AncientPages.com
Expand for references